Caritas Cafe Volunteers Served Over 440 Meals So Far This Year
St. Mary's Ryken High School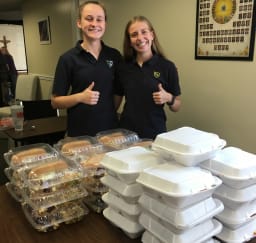 "It has many times been said that the word "charity" lost its meaning the moment it began to be uttered and heard by those who did not live their faith." Servant of God Madeleine Delbrel
Charity is currently defined by Webster Dictionary as "an organization set up to provide help and raise money for those who need help".
Caritas is defined as the "Christian love of humankind".
"Caritas is an action, not an organization." Lauren Standish '19
St. Mary's Ryken has partnered with Southern Maryland Food Bank and serves meals in Lexington Park every Monday and every other Thursday to those who are hungry. St. Mary's Ryken students coined the name "Caritas Cafe" because they didn't think it to be a sign of "kinship" to say, "we are going to feed the poor".
This school year, students have already served over 440 meals, and beyond the food, the students have learned the power of radical kinship which is God's love for all of us.
"Lines between our situations which often cause a divide, I have witnessed the students erase," said SMR Campus Minister, Mrs. Beth Allen. "Not just food is served but, hope is given and received by all."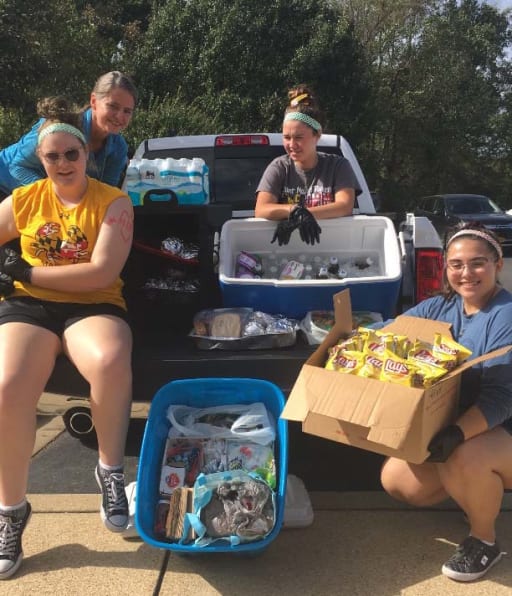 On the first day of Homecoming Week (Maryland day), students prepared 55 sandwiches, drinks and snacks for those in our local area who are hungry. "Our students gave and received many smiles," said Mrs. Allen.
If students would like to become involved with this initiative, please stop by Campus Ministry located in Rupert Hall to talk to Mrs. Allen.
"If we have no peace, it is because we have forgotten we belong to one another."
Saint Mother Teresa
The Southern Maryland Chronicle is a local, small business entrusted to provide factual, unbiased reporting to the Southern Maryland Community. While we look to local businesses for advertising, we hope to keep that cost as low as possible in order to attract even the smallest of local businesses and help them get out to the public. We must also be able to pay employees(part-time and full-time), along with equipment, and website related things. We never want to make the Chronicle a "pay-wall" style news site.
To that end, we are looking to the community to offer donations. Whether it's a one-time donation or you set up a reoccurring monthly donation. It is all appreciated. All donations at this time will be going to furthering the Chronicle through hiring individuals that have the same goals of providing fair, and unbiased news to the community. For now, donations will be going to a business PayPal account I have set-up for the Southern Maryland Chronicle, KDC Designs. All business transactions currently occur within this PayPal account. If you have any questions regarding this you can email me at davidhiggins@southernmarylandchronicle.com
Thank you for all of your support and I hope to continue bringing Southern Maryland the best news possible for a very long time. — David M. Higgins II