Spanish Teacher Drew Wildes Receives Dora Kennedy Award
News Release, St. Mary's Ryken High School
Congratulations to SMR Spanish teacher, Mr. Drew Wildes for receiving the Dora Kennedy Award. The purpose of this award is to support Maryland Foreign Language Association members who are new to the teaching of world languages and interested in participating in a professional learning opportunity to improve their ability to implement current best practices in the classroom. Mr. Wildes will receive a $500 scholarship for professional development. He plans to attend the International Forum on Language Teaching conference this summer.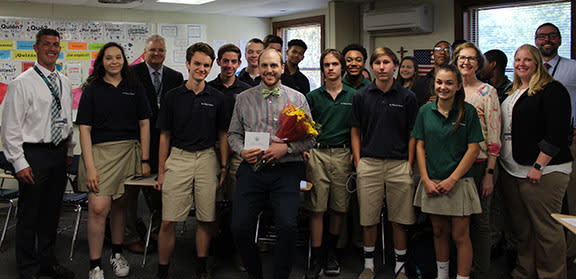 The Maryland Foreign Language Association (MFLA) has established this scholarship to honor Dora Kennedy and her lifelong passion for building teacher leaders. Dora, a former Latin teacher, Supervisor of World Languages for Prince George's County Public Schools, and methods instructor at the University of Maryland, was a strong proponent of the study of world languages at all levels. She was involved in numerous initiatives throughout the region and an active member of Northeast Conference on the Teaching of Foreign Languages and American Council on the Teaching of Foreign Languages, as well as other organizations promoting the study of world languages.
The Southern Maryland Chronicle is a local, small business entrusted to provide factual, unbiased reporting to the Southern Maryland Community. While we look to local businesses for advertising, we hope to keep that cost as low as possible in order to attract even the smallest of local businesses and help them get out to the public. We must also be able to pay employees(part-time and full-time), along with equipment, and website related things. We never want to make the Chronicle a "pay-wall" style news site.
To that end, we are looking to the community to offer donations. Whether it's a one-time donation or you set up a reoccurring monthly donation. It is all appreciated. All donations at this time will be going to furthering the Chronicle through hiring individuals that have the same goals of providing fair, and unbiased news to the community. For now, donations will be going to a business PayPal account I have set-up for the Southern Maryland Chronicle, KDC Designs. All business transactions currently occur within this PayPal account. If you have any questions regarding this you can email me at davidhiggins@southernmarylandchronicle.com
Thank you for all of your support and I hope to continue bringing Southern Maryland the best news possible for a very long time. — David M. Higgins II