State prepares for National Preparedness Month with events
Several state agencies will be partnering in September to educate consumers and business owners on how to prepare for disasters
?BALTIMORE – During September, the Maryland Insurance Administration (MIA) and the Maryland Emergency Management Agency (MEMA) are coordinating consumer outreach with other state agencies for National Preparedness Month (NPM). The other state agencies that will be participating include: the Department of the Environment, the Department of Commerce, and the Department of Housing and Community Development.

NPM, a federal initiative of the Department of Homeland Security's Ready.gov, provides an opportunity to remind us that we all must prepare for emergency situations now and throughout the year. The devastating natural disasters such as earthquakes, hurricanes, wildfires, and flooding of 2017 reminded the nation of the importance of preparing for disasters. This year Maryland's Governor Larry Hogan has declared two states of emergency already related to flash flooding.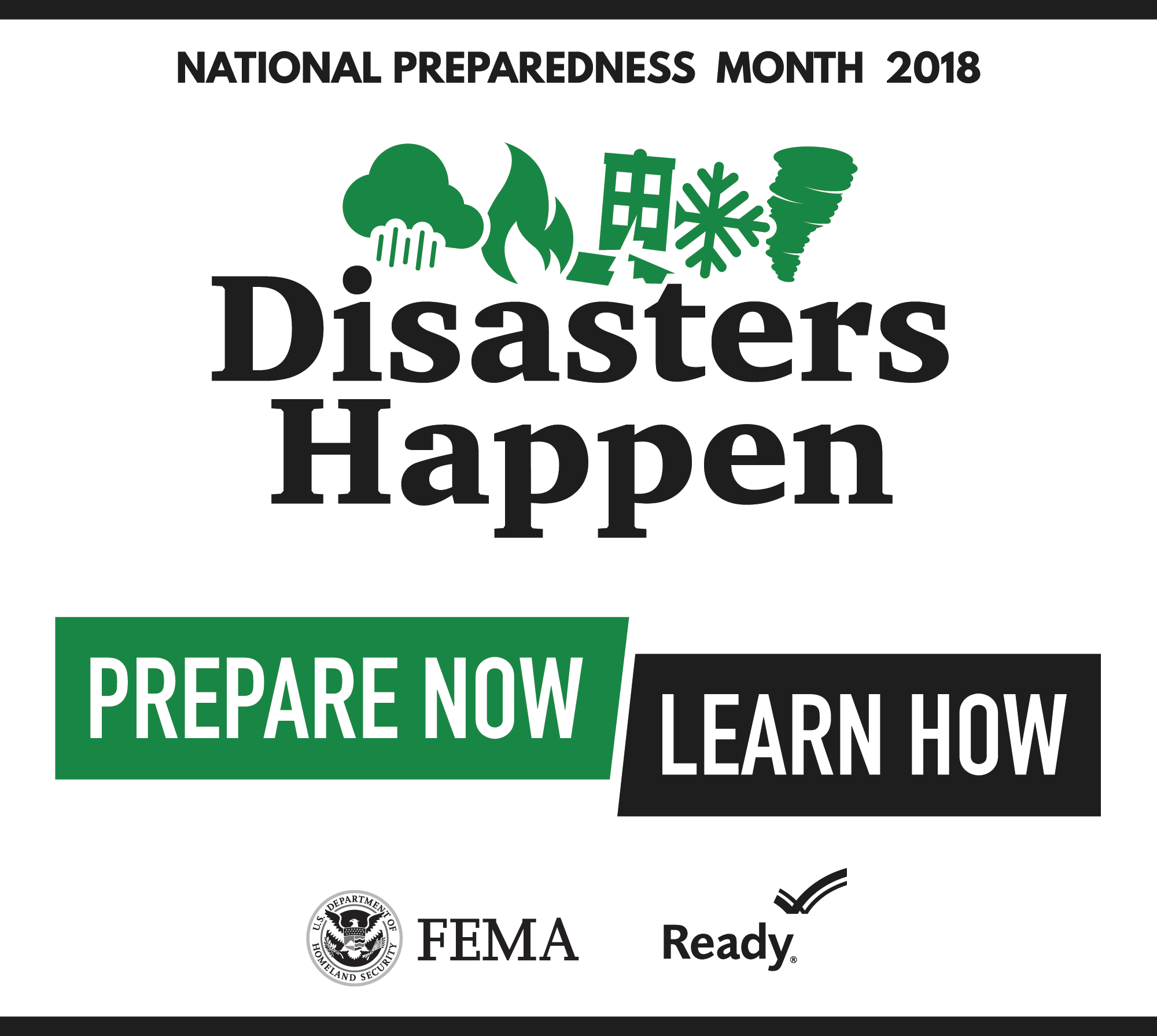 "We want to make sure that we are providing resources to consumers and business owners to help them prepare before disasters happen. This collaborative, cross-agency educational campaign will allow us to reach more people with our message," said Commissioner Al Redmer, Jr. "Our teams will be working together to promote National Preparedness Month across the state."
This year the focus of NPM is on planning with an overarching theme: Disasters Happen. Prepare Now. Learn How. Throughout the month of September, the state agencies will be sharing tips and resources on how to prepare in advance and what to do when disaster strikes. Other activities include: National Day of Action is slated for September 15th and a Twitter Chat is planned for September 18th at 12:30 PM EST. Join @md_insurance and @mdmema and other preparedness partners across the country for this National Preparedness Month digital event. The hashtag to use is #BePreparedChat.
The weekly themes for NPM are:
Week 1 (September 1-8): Make and Practice Your Plan
Week 2 (September 9-15): Learn Life Saving Skills
Week 3 (September 16-22): Check Your Insurance Coverage
Week 4 (September 23-29): Save for an Emergency
Consumer outreach events will be held across the state and staffed by the MIA, MEMA, Maryland Department of the Environment, Maryland Department of Commerce, Maryland Department of Housing and Community Development. For a full calendar of events, click 
here
:  (
http://bit.ly/2oiio9U
.)
The Southern Maryland Chronicle is a local, small business entrusted to provide factual, unbiased reporting to the Southern Maryland Community. While we look to local businesses for advertising, we hope to keep that cost as low as possible in order to attract even the smallest of local businesses and help them get out to the public. We must also be able to pay employees(part-time and full-time), along with equipment, and website related things. We never want to make the Chronicle a "pay-wall" style news site.
To that end, we are looking to the community to offer donations. Whether it's a one-time donation or you set up a reoccurring monthly donation. It is all appreciated. All donations at this time will be going to furthering the Chronicle through hiring individuals that have the same goals of providing fair, and unbiased news to the community. For now, donations will be going to a business PayPal account I have set-up for the Southern Maryland Chronicle, KDC Designs. All business transactions currently occur within this PayPal account. If you have any questions regarding this you can email me at davidhiggins@southernmarylandchronicle.com
Thank you for all of your support and I hope to continue bringing Southern Maryland the best news possible for a very long time. — David M. Higgins II