SMC Alum Heather Husk named SMCPS Teacher of the Year, finalist for Washington Post 2018 TOY
St. Mary's College of Maryland alumna Heather Husk '00 has been selected as St. Mary's County Teacher of the Year, as well as a finalist in the Washington Post 2018 Teacher of the Year. Husk has taught at Leonardtown Middle School since the fall of 2004, first as a special education teacher and then as a sixth grade social studies teacher.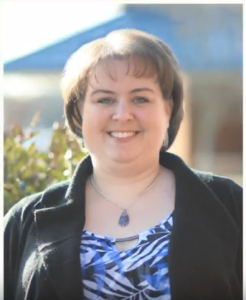 "In addition to working with the students in my own classroom, I work with new teachers to meet the needs of the students in their classrooms and to help them become successful members of the SMCPS faculty," said Husk. "I have worked as a mentor and new teacher seminar facilitator for several years, working with teachers both new to the profession and veterans new to SMCPS. I have mentored teachers within multiple contents and hosted St. Mary's College interns within my classroom. Working with new teachers and teacher interns has strengthened my teaching because it requires a level of reflection on my own practice as I help them navigate their experience."
Husk actively works with colleagues and administration within Leonardtown Middle School for school-wide initiatives that help maintain a positive environment for both students and staff and foster a sense of community. She also welcomes new sixth grade students each year through the planning of open house events by coordinating student guides, organizing routes for the movement of hundreds of people to tour and experience the school building, and directing and editing videos that showcase the highlights and features of the school.
According to Husk, "As an educator, I constantly look for creative ways to incorporate my love of history and travel into my lessons, especially since I teach ancient history. In 2011, I was awarded the Lexington Park Rotary Club Marco Polo Grant and took the opportunity to visit China. I was able to take that experience and bring it directly back into my classroom. I began a travel blog, brought back treasures to share in the classroom, and provided the students with a tangible link to the world outside of their own experiences. I found that my students became interested and engaged in the content in a way that I had not seen before this experience and I began looking for additional opportunities.
Since then, I have traveled to more than 10 countries, video-chatted with my students while traveling in Italy and Croatia, and extended my blog to communicate with my students to bring the experience home to them. (Blog link – Globe-Trotting Husk Blog ) My travels around the world have become part of my teaching through sharing experiences, planning for future trips with suggestions from students, and engaging the students in a world beyond the classroom door."
The Southern Maryland Chronicle is a local, small business entrusted to provide factual, unbiased reporting to the Southern Maryland Community. While we look to local businesses for advertising, we hope to keep that cost as low as possible in order to attract even the smallest of local businesses and help them get out to the public. We must also be able to pay employees(part-time and full-time), along with equipment, and website related things. We never want to make the Chronicle a "pay-wall" style news site.
To that end, we are looking to the community to offer donations. Whether it's a one-time donation or you set up a reoccurring monthly donation. It is all appreciated. All donations at this time will be going to furthering the Chronicle through hiring individuals that have the same goals of providing fair, and unbiased news to the community. For now, donations will be going to a business PayPal account I have set-up for the Southern Maryland Chronicle, KDC Designs. All business transactions currently occur within this PayPal account. If you have any questions regarding this you can email me at davidhiggins@southernmarylandchronicle.com
Thank you for all of your support and I hope to continue bringing Southern Maryland the best news possible for a very long time. — David M. Higgins II