Experimental male contraceptive blocks sperm movement
At a Glance
Researchers developed a compound that temporarily interferes with sperm motility in rhesus macaques.
While the result is preliminary, with further testing and improvements the compound could potentially be developed into a reversible male contraceptive.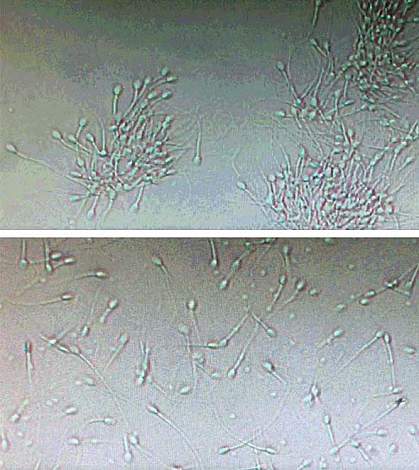 Many methods of contraception are available today. Most—such as birth control pills, vaginal rings, female condoms, and intrauterine devices—rely on the woman. Women also can opt for a surgical procedure that permanently prevents pregnancy. Men can use male condoms or get a surgical procedure called a vasectomy, which can be difficult to reverse.
Researchers have been trying to develop another contraceptive option for men. They've been investigating ways to temporarily either turn off sperm production or interfere with sperm movement (motility). In the female reproductive tract, sperm use their tails to swim toward the egg. Tail movements need to be strong to generate enough swimming force to penetrate the tough outer layer of an egg and fertilize it.
A research team led by Dr. Michael O'Rand, of the University of North Carolina at Chapel Hill and Eppin Pharma, Inc., has been focused on the sperm surface protein EPPIN. Compounds that bind to EPPIN have been shown to interfere with sperm motility. However, these compounds have limitations that make them impractical for use. The team set out to create new compounds that bind to EPPIN.
In past work, the scientists studied the sites on EPPIN that are bound by agents that inhibit human sperm motility. They were able to define a minimal region necessary to reduce motility. In their new study, they created and tested several small compounds that bound to the region. The work was supported by NIH's Eunice Kennedy Shriver National Institute of Child Health and Human Development (NICHD) and Office of the Director (OD). Results were published on April 19, 2018, in PLOS ONE.
One compound that inhibited human sperm motility in the laboratory, EP055, had other favorable characteristics that led the team to test it in a lab animal. After preliminary testing, they delivered low doses of EP055 into four rhesus macaques by intravenous infusion. Within 30 hours, sperm motility had fallen below 32%—a level considered too low to fertilize eggs. After a higher dose, sperm motility fell to about 20% within six to eight hours. Sperm motility remained low in three of the four animals until at least 78 hours after the infusions. It had fully recovered in all animals by the 18-day mark.
The researchers monitored blood and organ function during and after the drug administration. They detected no side effects or health warning signs.
"Simply put, the compound turns off the sperm's ability to swim, significantly limiting fertilization capabilities," O'Rand explains. "This makes EP055 an ideal candidate for non-hormonal male contraception."
Significantly more work is needed before the newly synthesized EP055 compound could be tested in people. The researchers have begun to formulate a pill form of the compound to test in lab animals.
—by Harrison Wein, Ph.D.
The Southern Maryland Chronicle is a local, small business entrusted to provide factual, unbiased reporting to the Southern Maryland Community. While we look to local businesses for advertising, we hope to keep that cost as low as possible in order to attract even the smallest of local businesses and help them get out to the public. We must also be able to pay employees(part-time and full-time), along with equipment, and website related things. We never want to make the Chronicle a "pay-wall" style news site.
To that end, we are looking to the community to offer donations. Whether it's a one-time donation or you set up a reoccurring monthly donation. It is all appreciated. All donations at this time will be going to furthering the Chronicle through hiring individuals that have the same goals of providing fair, and unbiased news to the community. For now, donations will be going to a business PayPal account I have set-up for the Southern Maryland Chronicle, KDC Designs. All business transactions currently occur within this PayPal account. If you have any questions regarding this you can email me at davidhiggins@southernmarylandchronicle.com
Thank you for all of your support and I hope to continue bringing Southern Maryland the best news possible for a very long time. — David M. Higgins II