State's Attorney's Office Partners with Schools to Display Sobering Drunk Driving Awareness PSA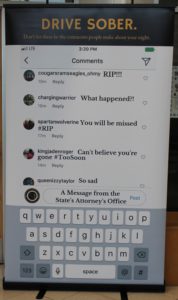 LA PLATA, MD— The State's Attorney's Office, in partnership with Charles County high schools, is raising awareness about the fatal effects of drunk driving by showcasing a sobering Public Service Announcement (PSA) in time for prom season. The PSA, which will be displayed in area high schools during their respective week of prom, was created to simulate the social media account of a fictitious person receiving comments after a fatal collision. It packs a powerful message: don't let a special night be defined by tragedy – drive sober. In an effort to remind students that they are not invincible and to make wise decisions, each Charles County high school mascot is represented within the message.
"So many youngsters – and adults for that matter – feel pressured into drinking. They want to fit in, to be cool, seem like their adults, etc. Doing anything because of peer pressure is always a bad idea. Too many times, unfortunately, the pressures to drink win out, a poor decision is made and horrific tragedies follow," said State's Attorney Tony Covington.
The PSA is part of the office's overarching message, "Think About It" – an initiative being presented to various area middle schools and high schools. The presentation takes a holistic approach focusing on the deliberate thinking about ones actions every day. It also includes the need to embrace positive thinking, rebuke negative thinking, while constantly believing in oneself. The "Drive Sober" PSA is intended for a high school audience, but the message strikes true with adults alike. Although tremendous progress has been made throughout the last 40 years, drunk driving still remains a pervasive problem today with drunk driving claiming over 10,000 lives per year (NHTSA).
Covington also commented, "My hope and prayer is that kids see this message and that it makes them stop and really think about the decision to drink. If they do I'm pretty sure they will make the right choice. We may save a life. Yeah it's that serious."
The Southern Maryland Chronicle is a local, small business entrusted to provide factual, unbiased reporting to the Southern Maryland Community. While we look to local businesses for advertising, we hope to keep that cost as low as possible in order to attract even the smallest of local businesses and help them get out to the public. We must also be able to pay employees(part-time and full-time), along with equipment, and website related things. We never want to make the Chronicle a "pay-wall" style news site.
To that end, we are looking to the community to offer donations. Whether it's a one-time donation or you set up a reoccurring monthly donation. It is all appreciated. All donations at this time will be going to furthering the Chronicle through hiring individuals that have the same goals of providing fair, and unbiased news to the community. For now, donations will be going to a business PayPal account I have set-up for the Southern Maryland Chronicle, KDC Designs. All business transactions currently occur within this PayPal account. If you have any questions regarding this you can email me at davidhiggins@southernmarylandchronicle.com
Thank you for all of your support and I hope to continue bringing Southern Maryland the best news possible for a very long time. — David M. Higgins II